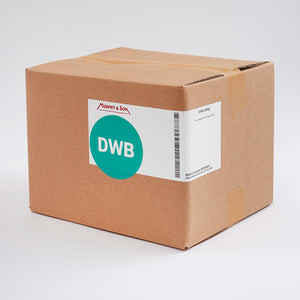 DWB is a formulated blend of powdered salts suitable for most brewing requirements. Used to adjust the calcium levels, and to add chloride, which imparts palate fullness and add sulphate, which enhances drier bitter flavours.
Kosher Product.
Benefits
Reduces the pH during mashing and wort boiling which improves enzyme activity
Promotes the precipitation of unwanted proteins in the kettle, hop back or whirlpool
Improves health and vigour of the yeast
Improves extract yield and fermentability
Reduces risk of infection
Reduces extraction of undesirable silicates, tannins and polyphenols
Reduces beerstone and can prevent gushing in beer
Reduces colour formation in the copper
Improves beer fining performance
Promotes head retention on beer
Adds chloride which impart palate fullness
Adds sulphate which give beer a drier and more bitter effect
Click HERE to read our Little Book of Liquor

For more detail please refer to the datasheets.
Datasheets
Technical Datasheet: Click HERE to view & download
This provides the detailed information you need to use the product; detailing the benefits, where to use it, how to use it and the dose required.
Safety Datasheet: Click HERE to view & download
This provides all the essential safety data legally required for the product; detailing any hazardous chemicals used, best practices on how to store and handle the product, as well as how to deal with spills, fires and medical emergencies.