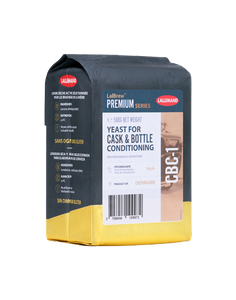 LalBrew® CBC-1 has been specifically selected from the Lallemand Yeast Culture Collection for Cask and Bottle Conditioning based on its high resistance to alcohol and pressure.

LalBrew® CBC-1 is suitable for use in conditioning all beer styles, and can also be used for primary fermentation of fruit beers, full-bodied malty beers, dry cider, and mead.
Note: LalBrew® CBC-1 is a killer yeast, meaning it will secrete a toxic protein that can inhibit killer-sensitive strains (most brewing strains are killer-sensitive). While this is a positive yeast trait when conducting a pure fermentation/refermentation with CBC-1, extra care should be taken to ensure proper cleaning procedures are in place to avoid any cross contamination with other brews.

Specifications
Flavor and Aroma
CBC-1's neutral flavor profile doesn't interfere with the original character of the beer. This highly flocculant strain will settle and form a tight mat at the end of conditioning.
Yeast Specifications
| | |
| --- | --- |
| Alcohol Tolerance | 12-14 |
| Brand | Lallemand |
| Minimum Temperature | 15°C/59°F |
| Maximum Temperature | 25°C/77°F |
| Species | S. cerevisiae |
How much to add
This product has a recommended dosage rate of 50-100 g/hL to achieve a minimum 2.5-5 million cells/mL for primary fermentation, and a 10g/hL to achieve 1-2 million cells/mL for refermentation/bottle conditioning.
Documents